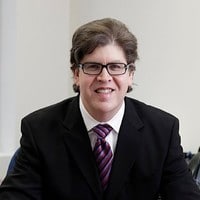 Rick Finkelstein has over 15 years of experience focused mainly on patent drafting and the prosecution of patents and trademarks. In particular, Rick has worked primarily on patents related to computer software, computer networks, databases, electrical circuits, integrated circuits as well as musical instruments and musical accessories. Rick has a love of technology which is why he became a patent attorney in the first place.
Education: Rick received his J.D. from Quinnipiac University School of Law, Cum Laude, in 2005. Rick also holds a M.S. in computer science from Rensselaer Polytechnic Institute (1998) and a B.S. in computer engineering from the University of Rhode Island (1989).
Bar Admissions: Rick is admitted to practice in Connecticut as well as the U.S. Patent and Trademark Office, and the United States District Court for the District of Connecticut.
Interests: Rick is only mildly obsessed with guitars and continues to promise that his next guitar will be his last. However, Rick's greatest joy in life is going on new adventures with his family to try new foods and to experience the world around us.